Recognising 50 Years of Service to the NHS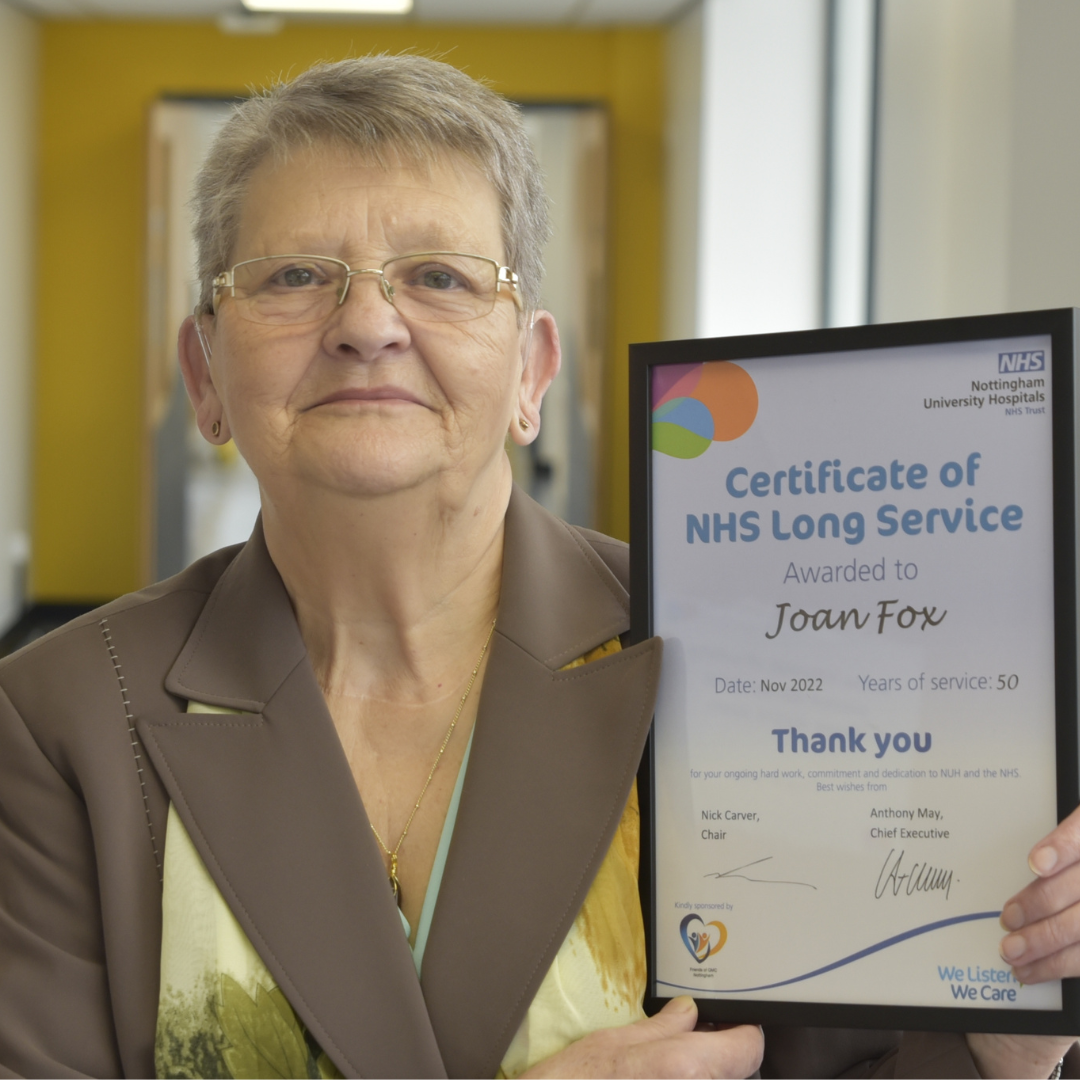 Nottingham University Hospitals NHS Trust (NUH) is committed to recognising and celebrating staff members for their achievements and commitment to the Trust and NHS.

We recently relaunched celebratory events to recognise and award Long Service staff with an afternoon tea which brought together over 40 staff members celebrating 25, 35 or 40 years of NHS service, with more than 1200 years of NHS service between them.

Joan Fox however, has just retired after 50 years of NHS service, solely at the Trust, so we put on a special event just for her, to recognise her phenomenal contribution.

Joan is originally from Durham and she came down to Nottingham to work as an Auxiliary Nurse, known today as a Healthcare Assistant, in 1972. By her own admission she originally took the role because she needed money for "a new three piece".

Joan was based at City Hospital for 40 years before being moved to Queens Medical Centre and has worked on many different wards throughout her time. Reflecting on her working life, she said "I really enjoyed working at NUH because it was like a family. We knew everyone, had nights out and our team would often go on holiday together. For anyone thinking of working at NUH, do it. It is very rewarding seeing a patient come in poorly and walk out well. It is fantastic."

Presenting Joan with a long service certificate and badge, Chief Executive Anthony May said "People like Joan are the bedrock of this organisation. I have met a lot of Healthcare Assistants since starting at the trust and they know everything that is going on in the hospital. It is incredible to think about how many babies have been born here, how many people have been treated and how many Governments have come and gone during the 50 years Joan has worked here. I want to say an enormous thank you to Joan on behalf of her colleagues, the whole Trust and the local community for everything she has done."

Joan will be spending her retirement looking after her Grandsons.