COVID-19 and clinical research at NUH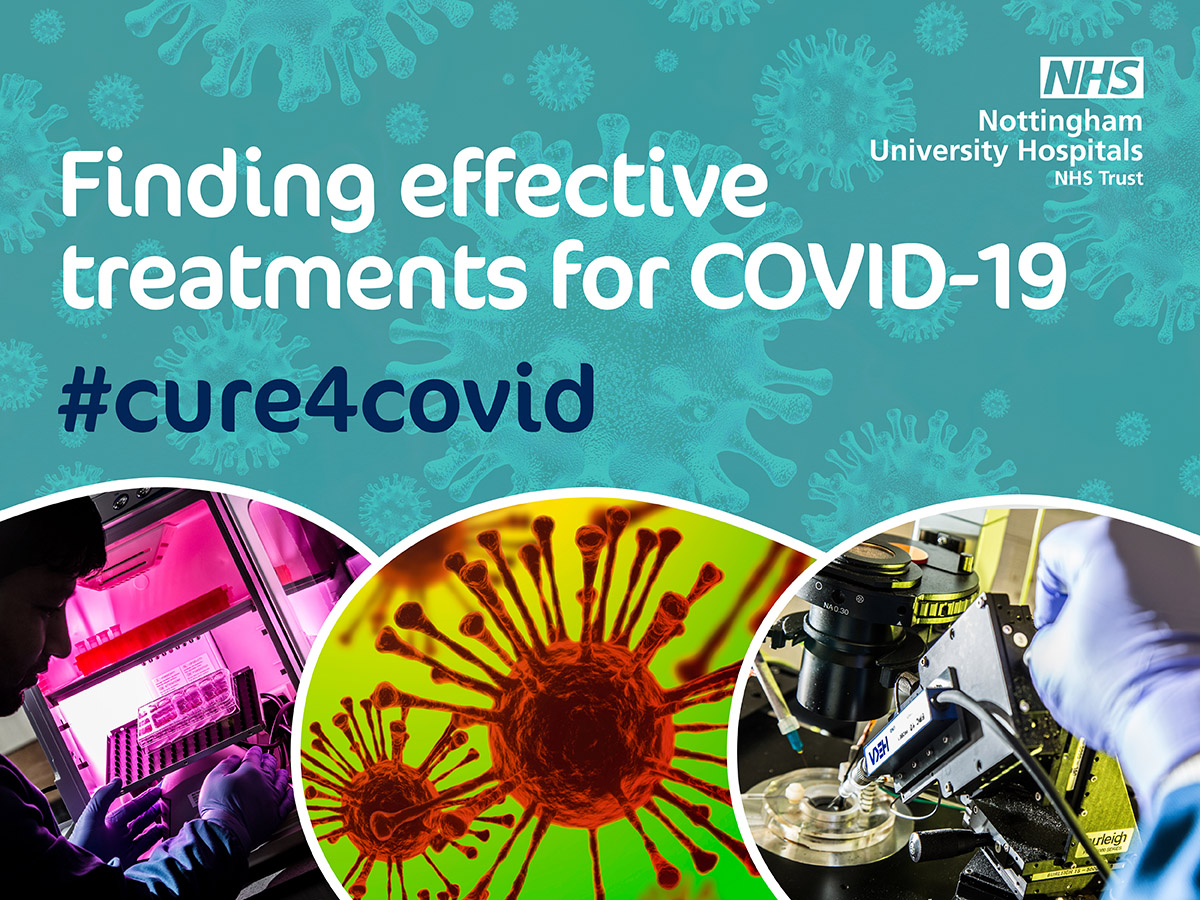 Leading research into COVID-19
We are using our clinical research resources to lead high priority COVID-19 studies at NUH. There is currently no cure for COVID-19. Our research is making potential treatments, vaccines and new developments available to our patients now to help save lives.
We are part of national and international research studies to rapidly develop new treatments and to build and share our knowledge of Coronavirus.
Research prioritisation process
Our research is part of the national process for the prioritisation and approval of all COVID-19 research. You can find further details on this process on the National Institute for Health and Care Research (NIHR) website.
Nottingham Health Science Partners
To coordinate COVID-19 research in Nottingham, we have established a Research Prioritisation Committee through Nottingham Health Science Partners.
Made up of our leading clinicians and academics, the Committee will review COVID-19 proposals on behalf of NUH and the University of Nottingham. Full details of the Committee's role, process and the form for researchers to submit Expressions of Interest for COVID-19 research are available in our online document library.
Finding treatments for COVID-19
We are leading a number of clinical research trials investigating potential treatments and vaccines for patients. These trials involve patients who are admitted to NUH with COVID-19 or suspected COVID-19 and NUH and frontline healthcare staff.
You can find a summary of our COVID-19 research in the drop-down sections below.
Advice to patients and carers
Current trials
Some trials have been temporarily suspended as part of protecting NHS services during COVID-19.

Some trials are continuing with changes to the way the research teams work with you. For example, follow-up appointments may be carried out by phone or video conference; prescriptions may be issued electronically or medicines delivered to you at home.

Where clinically necessary, some trials are continuing to provide patients with essential treatment and care on an ongoing basis.

Where visits to our hospitals for research are continuing, these are being managed with the safety of patients and staff as our first priority. All of our research teams are following national and local guidelines for the safe delivery of healthcare services during COVID-19.

If you are involved in a clinical trial, your clinical research team will be in contact with you to discuss the next steps for you. Please do not attend for planned appointments unless your research team has confirmed this with you beforehand.

Please do not attend for any confirmed appointments if you think you have symptoms of COVID-19. Please contact your research team to rearrange your appointment, or to re-organise treatment and tests.
COVID-19 trials
Our research experts are part of the national and international efforts to find effective treatments. Our aim is to offer every patient being treated at NUH for COVID-19 the opportunity to take part in this vital research. Our research teams are speaking to patients admitted to NUH with suspected or confirmed COVID-19 about taking part.
Volunteers
All research volunteer activities have been suspended until further notice. Thank you so much for your contributions. We will keep you updated; and once we know it is safe and appropriate to begin these activities again we will let you know.
In the meantime, you can still help researchers to understand more about COVID-19 by taking part in the NHS survey or by downloading the COVID-19 App.
Get in touch
If you have any questions or would like further information about our research, please email us.
Advice and information on COVID-19
If you have symptoms of coronavirus (COVID-19):
a high temperature
a new, continuous cough
a new loss or change to your sense of smell or taste
the advice is to stay at home for seven days. All members of your household should remain at home for 14 days. For more health advice about COVID-19 please visit the NHS website.
For all other information and updates about the UK response to COVID-19 please visit the Government website.
If you want to know more about the science behind COVID-19 you can find the evidence and the facts on the UK Research and Innovation (UKRI) website or visit the NIHR Nottingham Biomedical Research Centre website to find out what local research experts are doing to support scientific discoveries for COVID-19.
Additional support for researchers during COVID-19
COVID-19 clinical trials at NUH
Since March 2020 our research has focused on finding new treatments and vaccines as well as increasing our knowledge of COVID-19.
During the first phases of the Pandemic, our staff, facilities and resources were deployed to deliver Urgent Public Health studies and to support our services such as Intensive Care across our hospitals.
Our work on COVID-19 and Long Covid research continues, led by a dedicated team based in the NIHR Nottingham Clinical Research Facility and working with our world-leading experts in the NIHR Nottingham Biomedical Research Centre. Since September 2020 we have increasingly re-introduced our planned programme of research, starting with the highest priority areas for our patients.
New guidelines and protocols
Where needed locally, we developed new guidelines and protocols for managing and amending clinical trials in the light of COVID-19 requirements. These are published in our online document library.
Training
Training information for the delivery of Urgent Public Health COVID-19 trials at NUH is available in our Research Futures website.
Advice on your trial
All research trials should be risk-assessed using current national and NUH COVID-19 to guidelines to ensure the continued safety of patients and staff.
If you need help or support in managing your research trial during COVID-19 please contact Research & Innovation.
Funding and grants
If you need advice and information about current research funding, grant applicatons or for research costs arising out of COVID-19 please email us.
Patient and Public Voice
We have developed a number of virtual and online opportunities for our patients and local people to continue to be involved in developing our research. To request support for your trial, please email us.