New nurse-led cancer clinics helping 'lower risk' patients to access holistic support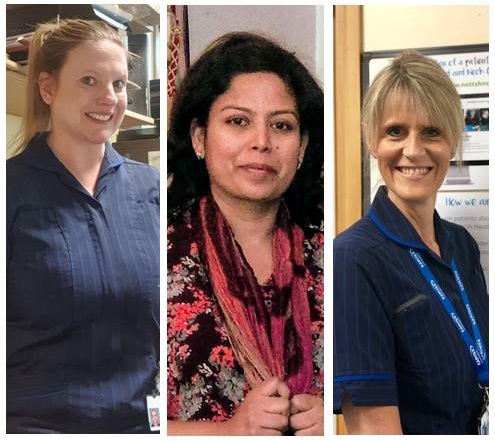 A number of new nurse-led telephone clinics within Head and Neck services at Nottinghamshire University Hospitals NHS Trust will give some cancer patients identified as 'low risk' earlier and potentially more personalised contact with healthcare staff.
Joanne Broughton-King (pictured left) is a Clinical nurse specialist within Head and Neck Cancer services at NUH. Part of Joanne's role, which is funded by the East Midlands cancer alliance, is to set up a nurse-led clinic to review long term, low risk patients with thyroid cancer. Currently these patients are being seen by consultants.
Joanne said: "Consultants can book patients directly into this clinic, which will run every Wednesday morning, with space for 6 patients. Patients will get more time with the nurse, including their own holistic needs assessment.
"We can also signpost them to dietary, psychological and other support services. Having a nurse-led clinic for lower risk patients also means that consultants can spend more time on complex, higher risk cancer patients".
Working closely with Bindhu Saraswathy (Macmillan Clinical nurse specialist - pictured centre) and Sue Mazengarb (Clinic Airways Nurse Specialist - pictured right), Joanne has also set up additional weekly telephone clinics for Bindhu which include a Macmillan holistic needs telephone clinic, a nurse palliative telephone clinic, a Macmillan new diagnosis telephone clinic and a head and neck airway nurse specialist advice line for Sue. In total these clinics have created extra capacity to see up to 26 patients each week.
Sue Mazengarb supports patients who have a tracheostomy or laryngectomy as part of their cancer treatment and is based at the QMC. She meets patients pre surgery and supports them during their stay with us. Through teaching and home visits Sue removes some of the worry and anxiety of the transition between hospital and home.
Sue said: "Part of my role involves nurse-led tracheostomy tube change clinics. We perform in excess of 500 tube changes every year in these clinics and we are able to offer tailored educational advice on tube care, products and equipment.
"Through our telephone advice line we can asses patients over the phone, provide specialist support, and arrange a face to face appointment or a home visit. Patients feel comforted that they have a named contact and a contact number in case specialist advice is needed at any point during their treatment".
Bindu Saraswathy, Macmillan Head and Neck nurse specialist, said: "Often Head and Neck patients have many challenges in terms of treatment which has a huge impact on their quality of life. Nurse-led clinics, with specific stress on a 'holistic assessment and treatment summary', will help us to capture and address these problems.
"The palliative patient telephone clinics also help the family or the patient's loved ones, who are also affected by a cancer diagnosis. Similarly, thyroid patients are often diagnosed young and often need a longer period of follow up which can be safely done through these nurse-led clinics".
Yujay Ramakrishnan, an Ear, Nose and Throat (ENT) Consultant and ENT Head of Service at NUH said: "The new nurse-led telephone clinics are great news for patients. Not only will these patients, who we class as lower risk, get more time with the nurse, my head neck consultant colleagues will be able to see more patients with higher risk cancers, which is a better outcome for everyone involved, patients and staff".
Looking ahead, Joanne is already looking to expand this nurse-led clinic model into other areas. "I am in the process of working with colleagues to set up more Nurse led clinics within the head and neck cancer service and we are looking at appointing Nurse Specialist to work alongside me to support this."