"We'll hold this with pride" - Cleaners win award for contributions to Covid-19 response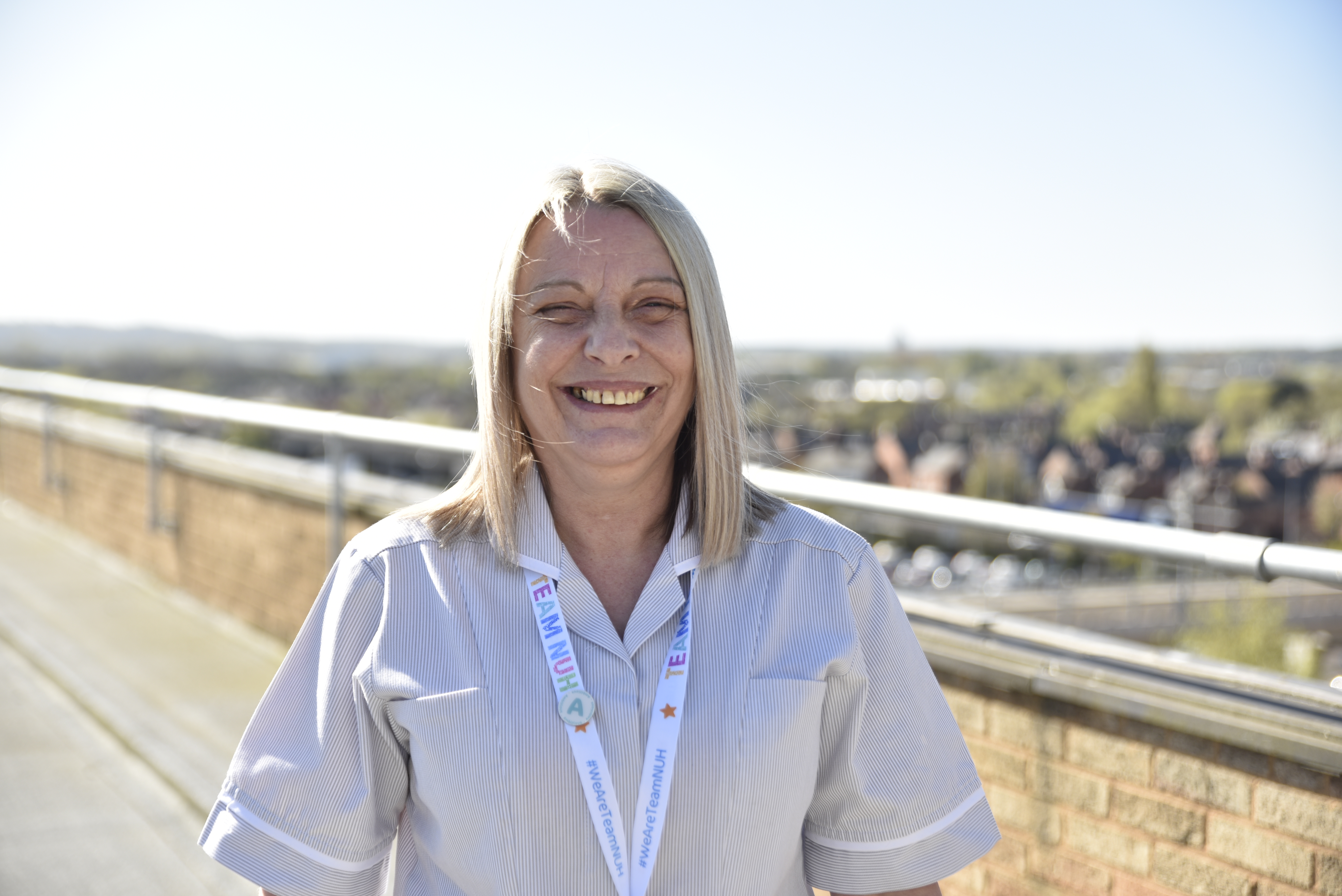 Here at Nottingham University Hospitals, we have over 17,000 staff and we're passionate about celebrating and recognising their achievements. We are very pleased to formally announce some of the Winners and Highly Commended staff so far in our NEW Team NUH Awards programme.

Olga and Deanna, two of our Cleaning Services Assistants, have won a joint Team NUH Award for living our Ambitious value. They've both worked with us for many years, however in early 2020 they were asked to join the 'Rapid Response Covid-19 Cleaning Team', working the night shifts to keep our hospitals clean. They've worked incredibly hard as part of our Estates and Facilities team during challenging times, and have made real contributions, keeping our hospitals safe. We're so pleased that their colleagues have nominated them for this award, and that they've won. They were presented the award by Andrew Chatten, Director of Estates and Facilities.
Here's what they had to say about their award win and their role in the Covid-19 response (quotes are paraphrased):
"It's humbling because it's not something we intended on being nominated for or winning, we knew nothing about it which was a bit of a shock, we will hold this award with pride."
"Everything changed in January 2020; we were asked to start doing Covid-19 cleans. At that point, they weren't quite sure what (Covid-19) was, we weren't quite sure either. In March things really came to a head and we knew we were dealing with the new virus. We were then asked to be part of the new 'Rapid Response Covid-19 Cleaning Team'."
"We felt that we helped by providing a quick turnover; making more beds ready and available more quickly. It was pretty hard sometimes and so busy but we got through and managed to come out the other end. There were times at the end of our shifts when we'd stand outside and cry, but we gathered ourselves to do it again that evening and support our teams."
"We might not have a lot to do with patients as cleaners, but during Covid-19 we've really been able to help. We will hang this award in the office so the whole of Cleaning Services can see that it is achievable; we're on a winning streak and we'll guide the team through."
They're the best of friends in and out of work, and they make a great duo. Congratulations to them both from all at NUH. Their infectious positivity and lovely bond as colleagues is wonderful to see. It is extremely well deserved and they've lived our Team NUH values throughout, we wish them all the best on their continued journeys with us.
These new awards replace the NUH Honours, and are aligned to our Team NUH Values and Behaviours. There are eight categories; one for each of our seven Trust values for staff to nominate under, and one for the public to nominate under, to show their thanks to the staff involved in their / their loved one's care.
During the year there are three rounds of judging. All Winners and Highly Commended staff from those three rounds will be invited to a celebration event in September, where an overall winner will be selected by an external judging panel. There will also be a category dedicated to our volunteers at the celebration event. This means that nominations are open all year round with nominations being included in the nearest round of judging.
We wish to thank all of those who have submitted nominations so far. We invite members of the public to submit nominations via our website, to celebrate and recognise those that consistently demonstrated high-quality clinical care, compassion and kindness in the care they provided/provide to them or a loved one.