Leading researchers appointed to new roles at NUH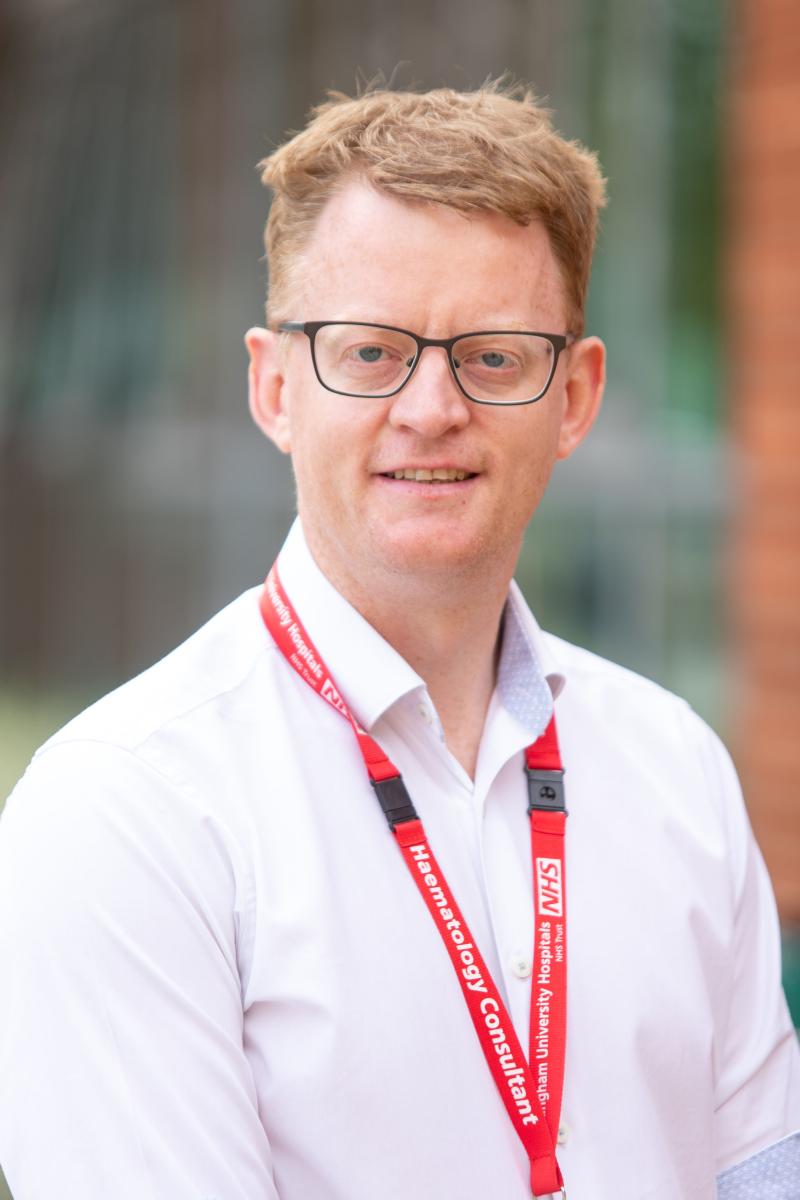 Three leading clinical specialists from haematology, stem cell therapies and respiratory medicine have been appointed to new roles to develop the next generation of research for patients at Nottingham University Hospitals NHS Trust (NUH).
Professor Christopher Fox, Consultant Clinical Haematologist at NUH (pictured) and Professor John Hunt, Strategic Research Theme Lead at Nottingham Trent University have both been appointed as deputy Clinical Directors of the NIHR Nottingham Clinical Research Facility. The multi-million pound facility, which is based across the three hospitals at NUH, specialises in experimental medicine and earlier this year was announced as one of 24 leading centres for early phase research by the National Institute for Health and Care Research (NIHR).
Professor Ian Hall, Director of the NIHR Nottingham Biomedical Research Centre and Respiratory Physician at NUH, has been appointed Co-Clinical Director for Research & Innovation at NUH. Professor Hall will work alongside Professor Stephen Ryder, Clinical Director for Research & Innovation, in addition to leading the Nottingham Biomedical Research Centre, a partnership between NUH and the University of Nottingham.
Professor Ryder explained that the appointments represent as new era of clinical research for Nottingham's patients,
"We are delighted to welcome Chris, John and Ian to new leadership roles for clinical research at NUH. These appointments are a vital part of our investment in building specialist research capabilities across our hospitals so that we can respond to the needs of local people and the challenges they face from the growth in diseases such as cancer, respiratory and inflammatory diseases which have such a devastating effect on life expectancy in this city.
"Chris and John bring cutting edge expertise in immunotherapy, Chimeric antigen receptor (CAR) T cell therapy and regenerative and stem cell therapies respectively. These are areas of research which offer the potential to save lives and dramatically improve the survival rates for patients with cancer.
"Ian is a world-leading researcher and Director of the NIHR Nottingham Biomedical Research Centre and his appointment as Co-Director with me will enable clinical colleagues working in research at NUH to benefit from his considerable knowledge and expertise."
Dr Maria Koufali, Managing Director of Research & Innovation at NUH explained that the new appointments bring the scientific strengths of both of Nottingham's universities directly into the hospitals,
"By combining the cutting-edge science that Nottingham is known for with our clinical research skills at NUH, we will be able to accelerate research into new drugs, therapies and technologies which have never been available to our patients on such a large scale before.
"Our aim at NUH is to provide greater access for the people of Nottingham and Nottinghamshire to experimental medicine and innovation by expanding both the facilities and the expertise available to carry our research here. Chris, John and Ian provide exceptional leadership and energy to enable us to achieve this."
In February this year it was announced that NUH had received £2.6m funding from the NIHR to expand the Nottingham Clinical Research Facility (CRF), enabling it to double in size. The biggest expansion enabled by this funding is at the Queen's Medical Centre where 16 adult and 4 children's inpatient beds will be created for research as well as dedicated outpatient facilities for adults and children. A mobile research unit is also being commissioned to enable research that currently only happens at NUH to take place in a purpose-built mobile clinic which will be used to bring research directly to local communities. The mobile research unit is just one of a number of suggestions from patients and researchers which will now be put into place over the next five years to enable more people to take part in clinical trials.
All three apointments are on a part-time basis and in addition to existing roles held in NUH and Nottingham Trent University.